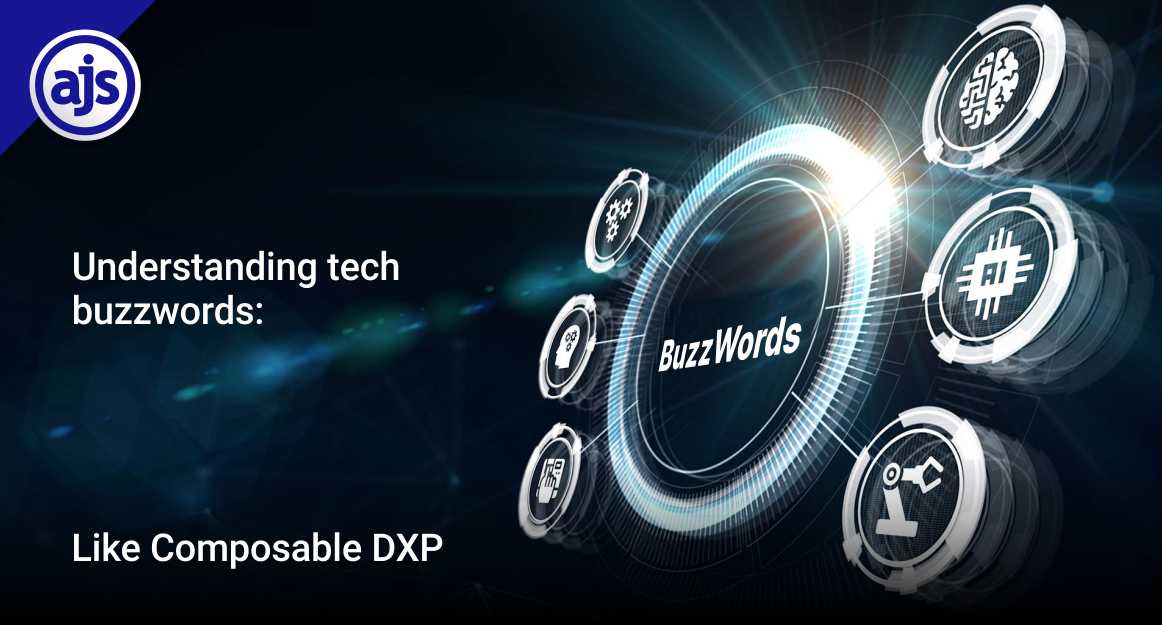 UNDERSTANDING TECH BUZZWORDS: Like Composable DXP
Like Composable DXP
Information. Opinions. Marketing campaigns. They're everywhere. All fields, all industries, every sector has something to say. And they all need an easy way to disseminate it. 
The legal sector is no different.
Content in today's market is extremely valuable, both in keeping existing clients up to date as well as enticing new clients to join your roster due to the intelligent and interesting information you're sharing – highlighting your legal prowess can be valuable dimes in your back pocket – and who doesn't want that?
Another pro about sharing content – you get to spread the news that you are out there, open for business. Do we hear free marketing?
This week's article is all about content – specifically what systems you are using to share your content.
Composable DXP is the name of this content game.
Not often included in the list of buzzwords touted by some unscrupulous service providers who claim they can offer you everything and the kitchen sink with their products. But worth learning about, nevertheless. Because the truth is, whether you believe them or not, would you really know if they couldn't offer DXP, composable or otherwise?
It's so easy to get mislead by all the buzzwords out there, that most of the time you are taking providers at their word. Not really knowing any better yourself. This may be ok with the providers you know and can trust but what about the new guys on the block that promise you the world? How can you tell the smooth operators from the "keep their promisers"?
One way is to become well acquainted with buzzwords so that you can pick out the take-a-chance "sharks" from the noble (and trusted) workhorses.
And we thought we would help you out with understanding a few of those buzzwords yourself. So that you can decide what is best for you.
Take Composable DXP as an example…
Firstly, what is DXP?
According to Optimizely, a Digital Experience Platform or DXP can be defined as –
"a software platform that manages digital experience across a broad range of digital touchpoints. Some of the functionality found in a DXP include content management, ecommerce, personalization, and experimentation.
Digital experience platforms are an evolution of traditional web content management systems to better map to the entire digital customer lifecycle, from content creation to deployment to measurement and iteration. DXPs handle much of the data management and user experience so that digital marketers can focus on customer needs and engagement.
In short, DXPs provide a centralized way to help build, manage, and optimize digital journeys. In an increasingly digital world, it's important to have a central experience management platform to manage the digital customer experiences across all digital touchpoints. DXPs provide marketers with a powerful technology stack for helping to create the best digital experiences for their customers".
And for members of the population that are not in the tech industry this simply comes down to software that enables companies to optimise the digital customer journey whether that be on their own website or mobile applications. This also involves the management of all their content and marketing campaigns using one central hub or common platform.
Essentially a DXP combines and coordinates applications, including content management, search and navigation, personalisation, integration and aggregation, workflow, collaboration, and data analytics, all through one central channel.
Content management and dissemination are all packed into one system from one software vendor. But only one vendor may not be able to offer you the exact service you require, which may mean subpar systems.
This one software vendor application is referred to as Monolithic DXP –
"The monolithic approach to a DXP setup is the traditional approach where one software vendor will sell a prepackaged all-in-one software suite.
All the functionality is available from the same suite, but this also means if you don't need a feature that is not there or want to change to another provider, this is often not possible". (Umbraco)
What then is Composable DXP?
With changing market conditions and growing customer expectations, companies are required to modernise and transform how they share content and how they are interacting with their clients and potential clients i.e., customer-facing components, in order to stay relevant.
This requires flexibility and the ability to rapidly change, assemble and recompose content and data as per a business's needs (Pimcore).
And this is where Composable DXP steps in.
According to Go Composable, a Composable DXP is defined as follows –
"a technology stack that supports the development and deployment of applications across various channels such as web, mobile, voice assistants, wearables and more. It consists of different components such as content management systems (CMSes), microservices architecture, APIs, analytics tools, customer data platforms (CDPs), marketing automation tools and more. These components work together to enable developers to rapidly build and deploy applications with minimum effort".
Composable DXP's are – quite simply – designed to deliver content using systems or applications that best suit your needs. Composable DXP's enable flexibility to integrate it with best-of-breed digital marketing solutions (or 'microservices') such as email campaigns like MailChimp, or cloud-based servers. Users are given  the opportunity to craft a customised digital solution with the added freedom of plugging particular tools in and out of their tech stack as the need arises (Luminary).
How does Composable DXP work?
One word – modularity.
According to Umbraco, Composable DXP's are built on the idea of modularity (separate parts that, when combined, form a complete whole (Cambridge Dictionary)) –
"Each module (or separate part) will offer functionality that can be reused and updated as needed through Application Programme Interfaces (APIs) and microservices.
This approach to software architecture makes it easier for businesses to create and manage digital experiences that meet the needs of their customers. With Composable DXP, companies can quickly adapt to changing customer needs and preferences, delivering a more personalized experience that meets their needs".
How does Composable DXPs relate to law firms?
There's no mistaking that in this day and age, the world has become more reliant on what the digital world has to offer. And in this world, law firms must ensure that they keep up with rapid advances in technology capabilities, being certain that they continuously improve on their digital experience.
This should see law firms moving away from websites that are, in essence, simple content management systems to ones that offer a more impactful, powerful digital experience platform that drives personalisation.
Lawyers and content creation
When it comes to sharing content, most law firms will write blogs and/or articles or post on social media regarding legal questions in general or specific issues that relate to their own clients. But over time, the content they created becomes buried underneath newer articles, only surfacing when someone specifically searches for that particular discussion item.
The problem with this? Content is key in influencing decisions. So, in order for it to have the impact it should, it needs to be found, read, and shared across multiple channels for maximum reach.
Which is why – and according to Codehouse –
"it's important that law firms serve the right content, on the right channel, at the right time, for the right person.
Take personalisation for instance. It's key to meeting a visitor's intent. It conveys the right message. With most legal services buyers using digital channels for research, your marketing strategy needs to focus on finding solutions for clients through engaging and influencing content across the entire customer journey".
And this is achieved through DXP's that offer "an all-encompassing experience for website visitors, content editors and marketers". For a law firm that may mean using a monolithic DXP that offers an all-in-one solution without the need of "bolting on various systems and marketing technologies to your existing system" or it could involve the use of microservices that suit each law firms' particular needs and the needs and expectations of their clients.
DXPs come with a wide selection of marketing features that solve digital challenges. From content management and personalisation to marketing automation to analytics. They're designed to help you deliver highly optimised, one-to-one connections that result in refined customer experiences and improved marketing and business insights (Codehouse).
Considering the digital world is moving away from traditional monolithic DXPs towards Composable DXPs, law firms should consider keeping up with the digital game and look towards using best-in-breed microservices that serve their individual needs.
Content is crucial, how you share it just as important. Law firms must ensure they are employing the right services for their business model in a way that requires minimal effort and upheaval but delivers massive impact and adaptability.
The main takeaway from this article? When shopping around for your latest legal tech investment, don't get hoodwinked by the overuse of technical buzzwords or empty promises of providing you the world – "Sure, we can help you with Composable DXP" – because once you understand what the word means, you will know whether they are a smart investment or not.
(Sources used and to whom we owe thanks: Kontent.ai; Umbraco; Pimcore; Codehouse; Go Composable; Luminary and Optimizely).
If you have any questions regarding the information we have set out above or if you have any queries relating to legal tech and how you can incorporate it into your practice, get-in-touch and let's see how we can take your software solution from good to phenomenal.
If you don't have any software supporting your legal practice yet, it's not a problem. We are here to help you from scratch too.
AJS – as always – has your back!
– Written by Alicia Koch on behalf of AJS