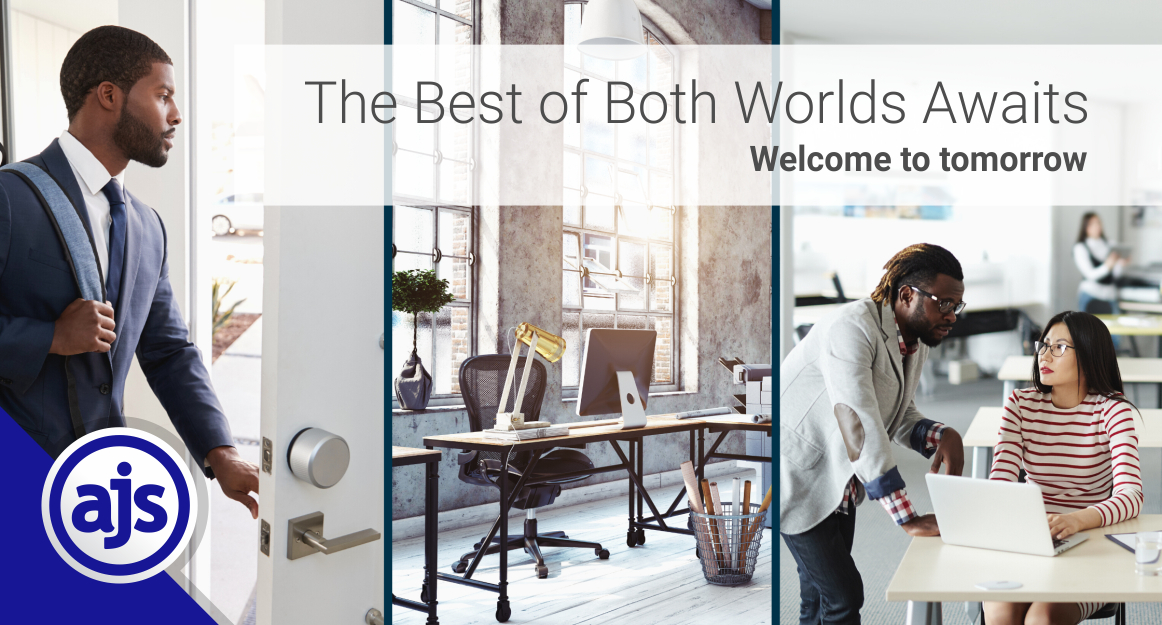 THE BEST OF BOTH WORLDS AWAITS
Welcome to Tomorrow…
Whoever would have thought that the COVID pandemic would improve working conditions and employer/employee relationships?
No one saw it coming. But it's true.
From the day WHO declared the COVID outbreak a public health emergency of international concern on 30 January 2020, the world has been changed forever.
In more ways than one. 
Yes, there have been a lot of Netflix binges, Scrabble playing, staring at the four walls, coupled with uncertainty, fear, isolation, loneliness and increases in depression, anxiety and insomnia. The "COVIDness of it all'.
But we have been living in this new "era" for over a year now. It's hard to believe. And amongst all that we have had to face, we have learnt how to adapt. How to change. And most importantly, how to evolve. Out of all of this COVIDness negativity, certain unexpected silver linings have arisen.
Let's be honest – there is no denying that COVID has changed how we work and how employers view not only remote working but also flexibility within working environments.
A revelation for most professionals. No one thought it would be possible to work out of the office until we all had to. It's been sort of like a work revolution.
And one that has been both unexpected and hugely encouraging.
But the world is still slightly topsy-turvy
COVID has not been the only thing to make news headlines.
With South Africa experiencing some of the worst looting in decades, parts of Brazil recovering from unexpected snowfall, record high temperatures reaching 49.6C (121.3F) in the usually colder area of Lytton, British Columbia and unrest once again breaking out in Gaza. It seems as if every part of the world has been touched – not only by COVID but by other unfortunate circumstances.
Leaving us all feeling a little rattled and forever affected (in one way or another).
In the haze of all of this, companies continue to seek alternative ways to not only keep their businesses afloat but to also keep both their clients and (importantly) their employees happy. The so-called 'New Normal" that we once spoke about where being flexible and being able to work from anywhere becoming the way in which businesses will need to be run, has certainly come true.
But just being able to "work from anywhere" is no longer enough. It needs to be more optimal, more substantial than that. Competition amongst key players for bigger slices of the consumer pies has intensified. And with that, the necessity to continually innovate.
COVID has undoubtedly created new challenges and opportunities in almost every industry. And it is how each company reacts to these challenges and opportunities that will separate the success stories from the "fly by nights".
How will "working" work?
According to the Harvard Business Review –
"By all indications the future of work is hybrid: 52% of U.S. workers would prefer a mix of working from home and the office, saying it has a positive impact on their ability to be creative, solve problems and build relationships. Global research tells us 72% of corporate leaders plan to offer a hybrid model, and only 13% say they expect to decrease their real estate footprint in the next year, suggesting that organizations will continue to leverage their workplaces within a hybrid work future.
But getting hybrid right will be hard. Deciding who works from the office and how often is a complex issue, and it will be different for every organization. If not done well it could threaten culture, collaboration, and innovation. Conversely, a well-executed hybrid workplace can be a magnet that brings people together and helps us work better than ever before".
We have moved away from the question of whether working remotely was possible to it becoming a necessity. According to ThoughtFarmer, the transition from working in an office to working from a dining room table has been a successful transformation where employees were liberated from the confines of their physical office environment. And found themselves thriving. And this occurred even in professions where it was never believed possible before – lawyers, financial planners, doctors and therapists,all surprisingly transitioned successfully
And according to an article by Apollo Technical, an overall improvement in productivity and morale was recorded –
"A study by Standford of 16,000 workers over 9 months found that working from home increase productivity by 13%. In this same study workers also reported improved work satisfaction, and attrition rates were cut by 50%.
77% of those who work remotely at least a few times per month show increased productivity, with 30% doing more work in less time and 24% doing more work in the same period of time according to a survey by ConnectSolutions".
Over time, and one very big overarching issue, however is the loneliness that certain employees felt as a result of working from home – naturally affecting their productivity and job satisfaction.
But, we must admit that there are glimmers of hope on the horizon. With vaccines being administered worldwide, a seemingly more stable work-life is encouraging companies to dabble with the idea of returning (at least in part) to an office environment (pleasing some employees who crave collaboration).
Which obviously begs the question – where to from here?
What about the Hybrid Office Model?
Companies however face a bit of a conundrum. After over a year of working from home (or from wherever), people have grown accustomed to it. They have enjoyed the freedom it has provided. And whilst it hasn't been perfect, most employees appreciate not having to commute back and forth, wasting many hours that could be better spent.
So despite the push to go back to office environments, companies need to come up with an alternative solution. One that fits everyone's needs.
Step in – the Hybrid Office Model
The hybrid office model features flexibility as being core to its successful implementation, with some people being in the office two or three days a week, with others requiring full remote work and still others wanting to be in the office every day. Perhaps you have outliers – people who go from place to place and those who have decided to move somewhere less expensive to save money. And these employees (which are key to the successful operation of your business) will all need to be catered for.
Another key factor for the successful implementation of a hybrid office model is the optimisation of your workforce for performance, cost, and agility. Empowering them to work from anywhere, at any time, across borders and even languages. And that can only be achieved through the proper implementation of your technological support (and software).
It is clear that the future of how we work will be centered around how people connect with smart technology by bridging the gap between in-person and remote employees. It will focus on enabling employees to fit work around their lives rather than structuring their lives around how many hours they spend logged into an office.
The future of work will require having every collaborative experience being as inclusive and as engaging as being face to face.
It is all about enablement and empowerment
The hybrid office model may be a relatively new concept but the challenges faced by companies in connecting and communicating with their employees remotely are not. These challenges were already tackled at the start of COVID Lockdowns.
Companies around the world depended on their internal practice management suites to increase their knowledge management, communication, innovation, efficiency, productivity and resilience. Whilst also keeping their clients information and their own IP secure.
And that is still the status quo.
These systems will therefore continue to play a key role in the success of a hybrid office model by not only continually ensuring that teams remain intact and in contact but by also providing centralised repositories for ever changing information related to potential future Lockdowns (especially with new variants arising).
These systems will seek to enable and empower their employees through autonomy and flexibility.
And if Google, Microsoft and Ford Motors represent the pedigree of companies that are offering employees flexibility and the option to work two or three days a week in the office, but also provide them with the option to work solely remotely (in other words offering a hybrid office model ), we should all stand up and take notice.
From the Forbes article on Microsoft, it was set out that –
"In a LinkedIn post, Satya Nadella, the CEO of Microsoft, wrote, "Hybrid work represents the biggest shift to how we work in our generation."
The "vast majority of employees say they want more flexible remote work options," Nadella says based upon his research. At the same time, people state that "they want more in-person collaboration, post-pandemic." Therein lies the hybrid-work paradox.
Over the past year, no area has undergone more rapid transformation than the way we work. Employee expectations are changing." We will need to be much more "inclusive of collaboration, learning and well-being to drive career advancement for every worker." This needs to be accomplished with "flexibility in when, where and how people work," he said.
And the key take away here is the fact that companies need to be more inclusive of collaboration, learning and well-being and that it is achieved through flexibility in when, where and how people work.
On the flip side of the coin, this may prove to be a breeding ground for growing sentiment that remote work is a logistical headache. Which it can be. As an example Cathy Merrill, CEO of the Washingtonian, threatened her staff that if they didn't return to the office, their status would be changed from employees to contractors.
But it doesn't have to be such a headache!
If giants of industry believe that a hybrid office model is possible, then we should take them seriously. Don't you think?
Microsoft wants "equitable, inclusive experiences" that begins with keeping those who won't be in the physical room in mind. The goal is to offer remote workers a "first-class" experience, along with people working at the office".
Ford Motors, Kiersten Robinson, the Ford chief people and employee experiences officer, says that "If there's one thing we've learned over the last 12 months, it is that a lot of our assumptions around work and what employees need has shifted."
And this shift, this change in assumption around what is required and how things can be done is crucial as we go forward.
And AJS agrees!
AJS has already been operating under the assumption that the "Tomorrow" we believed was still in the making is already here. Welcome to it.
We have developed our Web-Based Practice Management, Accounting, Document Automation, Workflow, Call Centre and Hosting software to withstand any type of unforeseeable occurrence, ensuring that your company is able to withstand anything. And still remain completely operational.
In fact, AJS has seen a major uptick in requests for our system from law firms using non-cloud competitor systems. Everyone now understands (and wants) to be at the forefront of the technological optimisation of their practice. Enabling a collaborative environment that supports a hybrid office model by being flexible and adaptable enough to work in a way that best suits your firm.
Lastly, in answer to the need to continually innovate and ensure that our service offering provides the absolute best in industry support, we have overhauled our most capable products to ensure top quality offerings which are not only "bang for your buck" but are also super impressive too.
A short and sweet overview of our updates
In our Version 4 updates we have provided a Colour your Favourites tool, where you are able to set up different colours for each transaction type, allowing users to easily identify how many of those transactions there are by having a quick glance at the page.
Our Quick View tool has a far more visual, almost navigational subsystem approach as opposed to a simple "quick view" making viewing high level information (on any account) as quick as 1, 2, 3.
Our User Tasks feature (which is unlike anything else being offered in the market today), enables you to see what needs to be done, by whom, and when. Allowing for the easy management of your task list.
Our Auto Bank Feeds feature, enables your book-keepers to work whilst they sleep. By automating bank feeds, they can easily locate that one very specific transaction without having to wade through massive amounts of red tape. They can also connect to the banking system via the AJS system to manually download bank statements (i.e. by simply clicking a button) or they can schedule the statement to download during the early hours of the morning (or whenever they choose).
Our Payment Requisitions tool, with a simplified screen has made it easy to capture a payment requisition. By linking authorised accounts to your payment requisition system, you simply need to enter the account number, payment reference and the amount – as few as three fields. That's it. Done and dusted. Payments done.
Lastly, with our Notifications feature you will be notified of all the important goings on in your practice enabling you to provide your team, your colleagues and your clients with peace of mind. Because you know what's happening and so do they. An empowering tool that provides you with the "all seeing eye", achieved, quite simply, with a little notification.
With our system (and especially with our Version 4 updates) Law firms can customise their practices to exactly how they need them to be!
They can manage their practice however they deem fit and they can enable and empower their team to work remotely, part time in the office or full time in the office. Whatever they choose. And because it is customisable and adaptable, it can be changed to suit your needs. At any time.
Welcome to Tomorrow!
Contact AJS to see how we can support you in this ever changing, ever growing and continuously innovative today.
Written by Alicia Koch on behalf of AJS