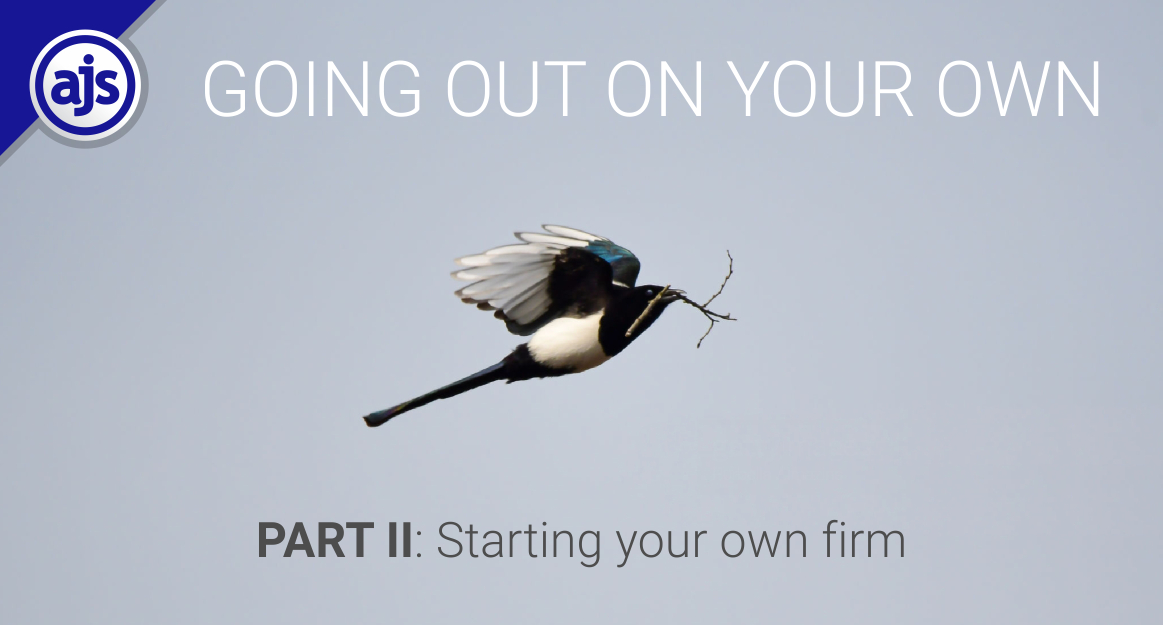 GOING OUT ON YOUR OWN
PART 2: Starting your own firm
The little bird has taken flight and has started to spread its wings.
But now what?
Where to Little Bird?
Last week we discussed the basics behind starting your own law firm in Going out on your own – Part One. Specifically regarding the mandatory legal requirements that you need in order to get your firm up and running.
Things like completing a legal practice management course, obtaining a fidelity fund certificate, opening up bank accounts, appointing auditors and informing the Legal Practice Council.
All big tasks, but unfortunately that's not all folks.
There are other practical minimum requirements that every fledgling law firm needs to consider in order to properly fly as high as the sky and as far as their wings may take them.
And most of it's all about the money, money, money….
So what are the practical minimum's to get your law firm off the ground?
Good question.
In the article Guide to Starting a Law Firm by the Lawyerist, they set out the following –
"Law practice is a business and a profession. To start your own law firm successfully, you must agree to see it as both.
The skills that it takes to run a business aren't the same skills it takes to practice law. While many of the skills you need to practice law will help you in your business, running your business will require you to tackle different problems than practicing law. And these challenges don't go away as your business matures and grows. They just change and challenge you in new ways".
And that is an extremely important distinction. You are not just practicing law any more. You are now running a business. Hopefully a lucrative one.
And in order to ensure that you do so successfully, you need to start seeing your new law firm as not just a legal practice but a business that earns money, that pays its staff, that pays rent, that ensures expenses are paid, ensures it has up to date software and technology and that there is money left over after all that is said and done to invest back into the legal practice.
A tip: over and above the money it will take to get your fledgling law firm (and now business) off the ground, it is important to remember that whilst you are starting your new venture, you still need to pay your own monthly bills. It is therefore prudent to have some money saved up in order to cover your personal (and family) living expenses for the first 3-6 months. Remember it may take a while before you are able to pay yourself a salary from your earnings. So, please keep this in mind.
So by way of the Lawyerist, you need to seriously ask yourself the following questions –
Am I ready and willing to be involved in the running of a business?
Am I ready and willing to be a business owner and leader and not just an attorney anymore?
Am I ready and willing to spend a considerable amount of time working on the business (and not just on the practice of law) and do I consider this work to be as important as my billable work?
If you answered 'Yes" or better yet "Hell Yes!" to the above three questions, we can move on to the crux of the matter. If you answered "No" then this is the wrong article for you bud.
What is the crux of the matter?
Undoubtedly it is this – as a new business owner (and now an entrepreneur), you need to be willing to go all in. You need to be ready to put in the time and energy that it will take to get your business off of the ground. And the important point here is realising (with a degree of certainty and maturity) that whatever you accomplish, will eventually result in the investing in the future health and well-being of your new law firm.
So, with your goals firmly set, your priorities in check, the realities realised (that it takes quite a bit to start up a new law firm) and with the agreement firmly in place that you are now running a business and not only advising on legal topics, we can begin.
First up – your start-up costs
When you first start a new law firm, you will need to spend some cash. From the get go. And this is unfortunately not optional.
In other words, you need to have some money in the bank to get things going. Whilst there is no exact science of how much you will need (exactly), there is a certain level of certainty that costs will vary depending on many variables, such as the location of your offices, whether you will be renting or buying your office space, your practice area, do you require litigation funding, can you advertise your new law firm in a way that will attract new clients, do you need a website and other considerations like the need to invest in technology and office supplies. All varying.
And that all sounds rather expensive.
We hear you!
But clearly, in order to succeed, one needs to take a risk and have a certain taste for adventure.
Ok, maybe referring to 'financial risks' as an adventure is a bit of an over exaggeration. But unless you think of this as something exciting – like starting something that will be an investment in your future, a way to leave your own mark in the world, a way to do exactly what you are passionate about – you are likely to find that starting your own law firm is not only very daunting but scary too.
Generally, it is an 'entrepreneurial spirit' that is needed. And here's the thing, once that spirit has grabbed ahold, it is contagious. And it only requires one person to get the ball rolling.
So, now that we have the ball rolling (so to speak), let's break down some of the varying costs –
Office Space
The cost of office space can either be substantial or marginal, depending entirely on the real estate market as well as your preferences. Generally speaking, rent of office space will represent your largest overhead cost. Especially if you choose a traditional office setup.
But you can also be smart about this.
Shared office spaces have become extremely popular. And with so many variations of them to choose from – like the Regus Office Space (which is international), to the Workspace, Spaces Works (which is also international), Cube Work Space, We Work, as well as Workshop 17 (to name only a few), there is something not only for everyone's tastes but also everyone's budgets.
There is also flexibility in that you are able to rent for shorter periods of time, with or without furniture, cleaning and internet all included (or not). Totally up to you, your needs and your budget (a realistic one).
And this concept of a shared work space or "co-working" environment could end up saving you a lot of start-up money. The shared working spaces also offer a sort of collaborative, creative environment and that can be wonderful for days when you are feeling less than enthused.
However, we mustn't forget the "new normal"
A lot of companies are still working remotely from home. And with a new law firm, the ability to start your practice from the comfort of your dining room table or dedicated home office space, could save you a fortune.
In fact in an article titled Does Working From Home Save Companies Money?, the following was set out –
"There are lots of ways that remote working can offer businesses cost savings. Many established businesses have already enjoyed savings due to telecommuting. Sun Microsystems identified savings of $68 million a year in its real estate costs, while Dow Chemical and Nortel have saved over 30% on non-real estate costs.
According to Global Workplace Analytics, almost 6 out of 10 employers identify cost savings as a major benefit of telecommuting".
Perhaps, the "new normal" will work wonders for your new law firm. In more ways than one.
Getting up and running may be a lot easier (and sooner) than you may think.
Legal Technology Spend
As a legal technology company ourselves, AJS believes with absolute certainty, that the old requirements of a law firm – like a pleasant secretary, a quaint sign post indicating where your law firm is and a nicely decorated waiting room – are long gone.
The reality is (especially in today's new normal) that at the very minimum, you will need to make (at the very least) a modest investment in technology.
In fact, as set out in our article Automation, we believe that legal tech provides the essential tools that are desperately needed by legal professionals in their pursuit to further their own technological innovation in order to ensure that they are working optimally.
And let's be clear – we are no longer talking just about having a computer or laptop, internet with Wi-Fi access, a copier/scanner and a fax machine. No. In order to practice remotely from wherever you are, you will need to have your practice online, stored in the cloud (or wherever) so that you are able to access your practice management software from anywhere. And often on the go.
You need software that will enable you to not only automate your documents with products like XpressDox, but also produce online receipts, online cheque printing or online invoicing options with products like AJS Enterprise and AJS Express which allows for document management, time recording, contacts management, FICA management and an asset register, all online or AJS FLOW which automates repetitive processes and menial tasks by allowing access to the system from anywhere on almost any device via the Cloud.
What's more, with certain expectations placed on law firms to be technologically advanced – as set out in our article The Robot Lawyer –
"given the expectations now placed on businesses by both staff (who have come to expect the support of technology in the advancement of their careers) as well as clients (who expect their service providers, like law firms, to be as technologically apt as they are) to be forward thinking and properly prepared to take on more work and produce results at a quicker pace for less cost (and less time required by staff to repeat menial tasks)".
It's kind of a no brainer.
So, in order to save money with say office rent, you need to invest in a practice management system that allows you to work successfully from home.
And AJS can certainly help you there.
A tip: AJS is always happy to assist new law firms get their practice truly up and running. Get in touch with us today to see how we may be able to help you. We truly want you to succeed!
Do I need a website?
Well, it depends.
A website is undeniably useful when strengthening your brand and providing a clear indication of what you can do and who you are. But the cost of developing a website can be exorbitant. Especially when you are working with a limited budget.
But you can use Wix or WordPress to attempt to do your own website. Fret not, they are free and if you are able to spend enough time on it, they can look pretty good. You are also able to use Canva to design your own logo. Also free.
So it can be done. If you have the time to spend on it.
What about professional email addresses?
Not everyone appreciates the "professionalism" that comes with a generic @gmail.com or @hotmail.com email address.
Again, don't fret. You may still be able to get professional email accounts for your practice by simply purchasing a domain name and hosting a landing page under the domain name through Wix or WordPress or even by converting your gmail account to a gmail business account. This may alleviate the displeasure of having to provide an email address attached to a public domain.
Canva can also be used to design your own letterheads.
Remember – where there's a will, there's a way!
Professional Liability Insurance
Having professional indemnity (or liability) insurance according to Investec–
"protects you against any damages that may be claimed from you by clients or third parties due to an act, omission, or breach of professional duty in the course of your business, as well as legal costs associated with a claim.
Typically, South African law uses a benchmark to test negligence – the reasonable person test. In other words, what would a similar person, in a similar situation have done? However, when a qualified professional is being questioned, the yardstick becomes 'the reasonable expert test' which means the standard is much higher. If the conduct of professionals falls short, it can be said that they acted negligently. If third parties or clients suffer harm or a loss due to a professional's negligence, they are entitled to damages, regardless of whether or not they are a paying client or whether or not they have a written agreement with you".
It is therefore advisable to (or perhaps even crucial to) maintain professional indemnity insurance.
Also (as an aside) by having professional indemnity insurance, larger companies are likely to engage your services because if an allegation of professional negligence does arise, they know your practice wont crumble.
Firms like Aon Insurance brokers, offer professional indemnity cover for negligent acts, errors, and omissions of professionals acting in the course and scope of their employment. Such as AON's Legal Risk Management Services.
But there are other professional indemnity insurance providers. Shop around to get the best possible quote by using services such as Hippo.
Feeling a little overwhelmed?
We can only imagine how much your stress levels have gone up.
It's a lot to take in.
And we didn't even cover all potential expenses. But we did cover some of the bare necessities. Which is sometimes all that you need.
If you are wondering where all this money will come from, we may have a solution.
No, we are not fairy godmothers providing finance for new law firms. But we do know a company that does.
Taurus Capital is a unique company. They are able to provide tailor made investments and financial solutions for law firms. Specifically. In fact on their website they state that they are in the "business of law".
And while we are not affiliated with them whatsoever and cannot guarantee that they will be able to offer you finance, we have heard great things about them. So why not get in touch?
In this article, we have tried to provide you with practical guidelines in order to get your legal business going. Sure we have not covered everything. There is a great deal of things to cover. But we do hope that we have provided you with some food for thought.
And we wish you the best of luck in your endeavours!
The above high-level information is not to be considered as legal advice in any manner or form and should be used for information purposes only. For further information on the above processes please get in touch with the professional bodies as listed above.
Written by Alicia Koch on behalf of AJS