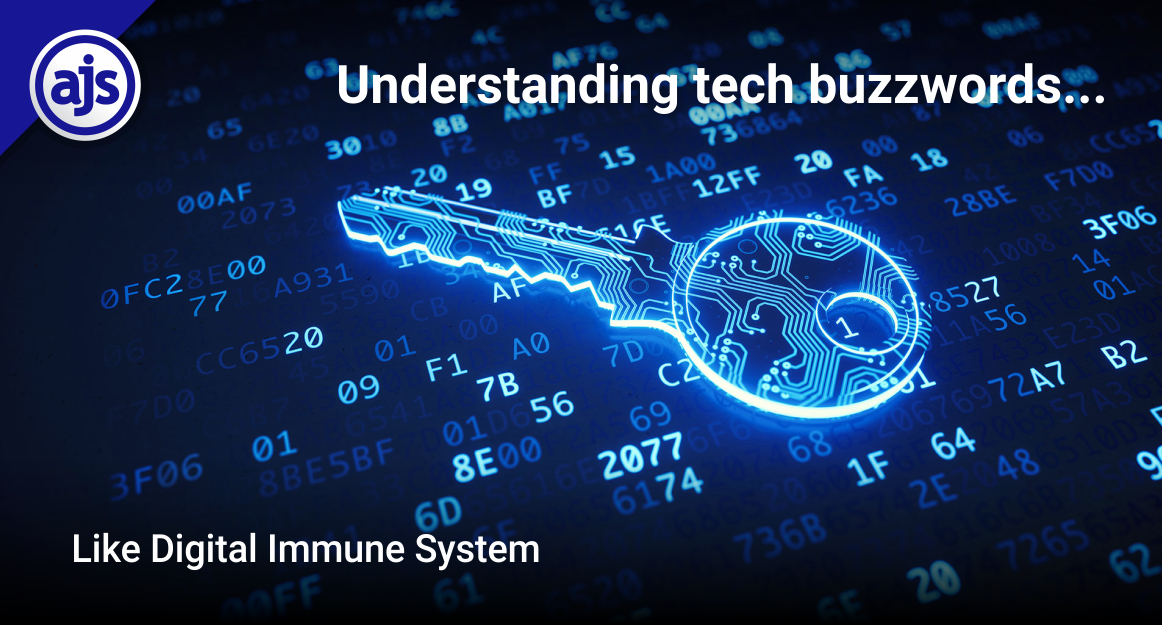 UNDERSTANDING TECH BUZZWORDS: Like A Digital Immune System
Like A Digital Immune System
Businesses as a whole and law firms in particular are at threat. And often from the very clients they have just serviced.
This isn't a random threat. It's reality.
According to the article Law Firm Cyberattacks Grow, Putting Operations in Legal Peril –
"Law firms that rake in dollars defending companies against cyberattack lawsuits are increasingly finding themselves targets, with five class actions filed so far this year alleging the legal operations failed to protect client data.
News of data breaches at prominent firms has become close to a weekly occurrence, with reports of cyber thieves gaining access to different types of data including "personally identifiable information," commonly known as PII, from former employees of firm clients, among others".
And that's not all.
In a survey titled Check Point 2023 Security Report: Cyberattacks reach an all-time high in response to geo-political conflict, and the rise of 'disruption and destruction' malware, cyberattacks have reached an all-time high. In fact – and according to the report –
"cyberattacks have risen by 38% in 2022 compared to the previous year, with an average of 1,168 weekly attacks per organization being recorded. The report also highlights the role played by smaller and more agile hackers and ransomware groups in exploiting legitimate collaboration tools used in the hybrid workplace".
It's no wonder why cybersecurity has become so crucial.
Because in order to –
Ø  protect valuable data; 
Ø  keep business operations going; 
Ø  ensure that there isn't an impact on revenue, and 
Ø  mitigate reputational damage, 
businesses and specifically law firms need to ensure that their systems are properly protected against cyberattacks. This involves taking a long hard look at your current systems and understanding what needs to be incorporated to ensure maximum protection.
The truth is – no one can stand idly by hoping that they are adequately protected without knowing what solutions are available out there, what they should be looking to incorporate, what's absolutely necessary and what's a passing fad.
And that takes active participation, not only in your online security, but also in keeping up to date with all the buzzwords out there.
But you already know this. You most likely already have cybersecurity measures in place. Which is great.
But. There's always a but isn't there?
Have you heard of a Digital Immune System (DIS)?
No? Fret not. That's what this week's article is all about – a DIS.
Not often included in the list of buzzwords touted by some unscrupulous service providers who claim they can offer you everything and the kitchen sink with their products. But worth learning about, nevertheless. Because the truth is, whether you believe them or not, would you really know if they couldn't offer a DIS?
It's so easy to get mislead by all the buzzwords out there, that most of the time you are taking providers at their word. Not really knowing any better yourself. This may be ok with the providers you know and can trust but what about the new guys on the block that promise you the world? How can you tell the smooth operators from the "keep their promisers"?
One way is to become well acquainted with buzzwords so that you can pick out the take-a-chance "sharks" from the noble (and trusted) workhorses.
And we thought we would help you out with understanding a few of those buzzwords yourself. So that you can decide what is best for you.
Take a Digital Immune System as an example…
Firstly, what is Digital Immune System (DIS)?
According to Site24X7, a DIS is –
"A digital immune system (DIS) is a software development practice for safeguarding applications and services from software bugs and security flaws. The DIS approach combines software engineering strategies, design, development, automation, operations, technologies, and analytics—all to cut down on operational failures, mitigate business risks, and enhance user experience (UX).
DIS works by constantly monitoring and scanning computer systems and networks to detect potential threats and vulnerabilities and take necessary precautions to avoid them. It detects malicious communications, identifies compromised devices, and applies security patches".
In other words, a DIS helps protect your business from cyberattacks. It does this by allowing for the effective detection of threats so that you can respond accordingly. And with haste.
Almost like our own immune systems protecting our bodies against germs and diseases. 
How is a healthy DIS achieved?
A healthy DIS can be achieved – according to Xenon Stack – by ensuring that your business has the following components in place –
Ø "Perimeter security – like firewalls, intrusion detection/prevention systems, and virtual private networks (VPNs) to protect your business from external threats.
Ø Endpoint security – like antivirus, anti-malware software, and other endpoint protection technologies to protect individual devices such as laptops, desktops, and mobile devices.
Ø Identity and access management – tools and processes to manage user identities and control access to digital assets based on user roles and permissions. This can include multi-factor authentication, single sign-on, and privileged access management.
Ø Security information and event management (SIEM) – collecting and analysing security event data from across an organization's digital systems to detect and respond to security threats.
Ø Incident Response – processes and procedures for responding to security incidents, including incident reporting, triage, investigation, containment, and recovery.
Ø Threat Intelligence – using external sources of information, such as threat feeds and vulnerability databases, to inform threat detection and response.
Ø Training and Awareness – educating employees about cybersecurity best practices and promoting a culture of security awareness within the organization".
As set out by Gartner, the ultimate goal with your DIS is to ensure that software and systems are always 'immunised' against bugs and vulnerabilities. And that can be achieved by ensuring you have at least one or two (preferably all) of the above components in place. 
What are the benefits of a DIS?
According to Site24X7, the benefits of having a healthy DIS include –
Ø "Reduced business risks – DIS is implemented to minimise the threats to business continuity posed when software applications and services are severely compromised to the point of being unable to operate.
Ø Improved software quality – DIS improves the quality of software by making it more secure, resilient, and reliable, so that it can rapidly recover from failures. It addresses threats and vulnerabilities across the entire software development life cycle.
Ø Threat detection – DIS provides engineering teams with the necessary insight for addressing threats and vulnerabilities in the form of functional bugs, ransomware attacks, security vulnerabilities, and data inconsistencies.
Ø Enabling real-time monitoring and response – aDIS allows for real-time monitoring and response capabilities so that threats and vulnerabilities can be immediately detected and remediated. Real-time response helps lower the risks of downtime and data breaches.
Ø Integrating security and compliance requirements – DIS integrates the software development life cycle with security and compliance requirements to ensure that software systems and applications meet industry standards and regulations.
Ø Using AI and machine learning – DIS brings artificial intelligence and machine learning technologies into the software development life cycle to automate the process of detecting and monitoring security threats.
Ø Continuous improvement – DIS promotes continuous improvement by detecting, remediating, and monitoring issues that can impact the security, performance, and reliability of software applications".
In today's digital age, one of the biggest threats to businesses – and especially law firms – is that of cyberattacks. And those are on the increase (as illustrated above). As owners of businesses, it's your duty to ensure that you have adequate protection in place to safeguard your data. Because not doing so can result in devastating consequences. For you and your clients. And the reputational damage? That can take years to recover from.
To protect yourself from cyberattacks, sufficient cybersecurity must be put in place. And this will include the combination of various technologies, processes, and strategies to detect, prevent, and respond to cyberattacks and threats effectively. This will include an understanding of what threats are out there, the implementation and incorporation of strong security controls, continuous monitoring, and regular security audits.
Just like your own immune system, your business's digital immune system requires continuous monitoring, continuous management, and ongoing support to ensure optimal health.
When shopping around for your latest legal tech investment, don't get hoodwinked by the overuse of technical buzzwords or empty promises of providing you the world – "Sure, we can help you with a healthy Digital Immune System" – because once you understand what the word means, you will know whether they are a smart investment or not.
(Sources used and to whom we owe thanks: Gartner, Forbes, Checkpoint, Site24X7 and Xenonstack).
If you have any queries relating to legal tech and how you can incorporate it into your practice, get-in-touch and let's see how we can take your software solution from good to phenomenal.
If you don't have any software supporting your legal practice yet, it's not a problem. We are here to help you from scratch too.
AJS – as always – has your back!
– Written by Alicia Koch on behalf of AJS