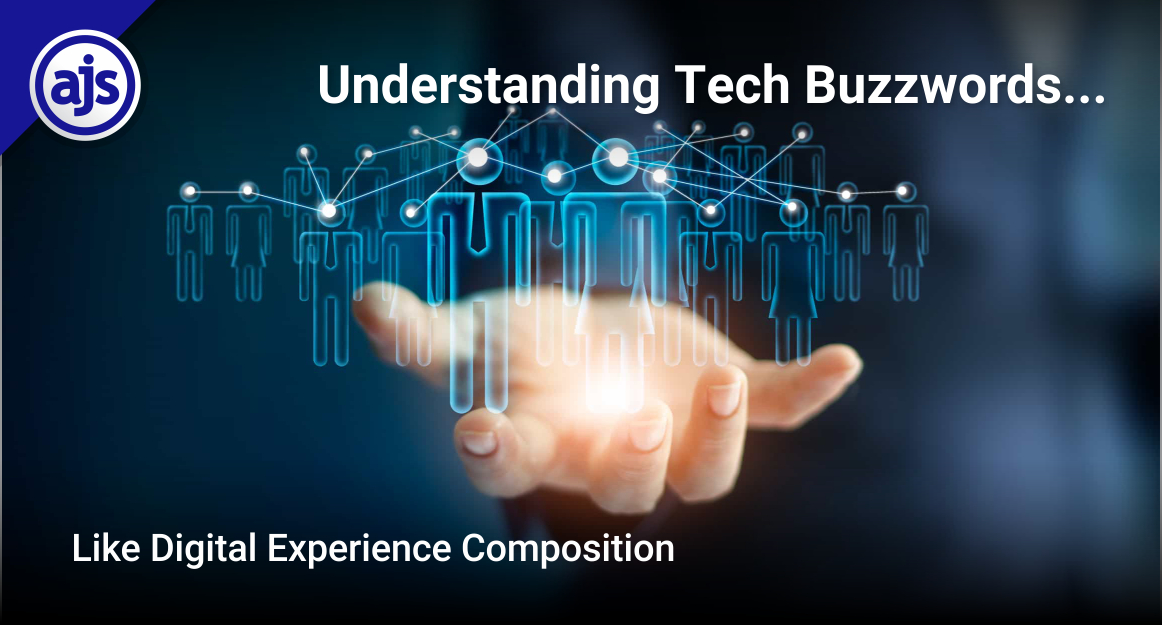 UNDERSTANDING TECH BUZZWORDS: Like Digital Experience Composition
Like Digital Experience Composition
A business – any business really – requires a certain amount of income in order to run optimally. Ideally this income would need to outweigh expenditure in order for the business to make a profit. Because that's the end goal really – for a business to make a profit.
But how does a business make a profit in the first place? The money doesn't just fall out of mid-air (as much as we pray it would). Income and profit come from clients. And to attract and keep our clients, we need to ensure that their online and digital experience – remember us saying that everything is online nowadays? – is on point.
As IBM puts it –
"A customer's journey can begin and end digitally, so creating a cohesive, contextual digital customer experience that addresses customer needs is more pressing than ever"
And this digital customer experience, and how it's achieved, is exactly what we're going to talk about today. The Digital Experience Composition or DXC is a "complimentary part of the overall customer experience (CX) and user experience (UX)" (IBM) and is therefore crucial when trying to keep up to date with the latest tech trends and ensuring that your digital presence and your client's online experience remains at the top of its game.
A DXC isn't often included in the list of buzzwords touted by some service providers who claim they can offer you everything and the kitchen sink with their products. But worth learning about, nevertheless. Because the truth is, whether you believe them or not, would you really know if they couldn't offer a DXC?
It's so easy to get misled by all the buzzwords out there, that most of the time you are taking providers at their word. Not really knowing any better yourself. This may be ok with the providers you know and can trust but what about the new guys on the block that promise you the world? How can you tell the smooth operators from the "keep their promisers"?
One way is to become well acquainted with buzzwords so that you can pick out the take-a-chance "sharks" from the noble (and trusted) workhorses.
And we thought we would help you out with understanding a few of those buzzwords yourself. So that you can decide what is best for you.
Take a Digital Experience Platform as an example…
What is a Digital Experience Composition (DXC)?
Before we get into what a DXC is, there are a couple of terms that need defining –
A digital experience – this refers to an interaction between a user and an organisation that is made possible because of digital technologies. Websites, mobile apps, e-commerce sites, social media content, and smart devices, all provide a digital experience to the customer, partner, or employee that is interacting with an organisation. Understanding what a digital experience is allows your business to be more proactive when it comes to creating personalised experiences that better engage prospective customers, satisfy current users, and enhance employee experiences (IBM).
A Digital Experience Platform or DXP – as a refresher and as discussed in our previous article on Composable DXPs boils down to software that enables companies to optimise the digital customer journey whether that be on their own website or mobile applications. This also involves the management of all their content and marketing campaigns using one central hub or common platform. Essentially a DXP combines and coordinates applications, including content management, search and navigation, personalisation, integration and aggregation, workflow, collaboration, and data analytics, all through one central channel.
With the above definitions in mind – What then is a DXC?
According to Oshyn, a digital experience composition or DXC refers to –
"a set of tools that allow developers to build digital experience solutions and then hand them over to business users for day-to-day management".
Further to the above and according to Crafters CMS, a DXC can be used to –
"compose digital experiences from best-of-stack components such as search, content, commerce, personalisation, analytics, and more. For business practitioners, DXC ultimately enables them to streamline day-to-day activities and increase productivity".
What's the difference between a DXP and a DXC?!
All these acronyms can leave your head in a whirl. But don't worry, we can simplify things pretty quickly for you –
While both a DXP and a DXC are a set of technologies, a DXP is used to create, deliver, and optimise the digital experiences across multiple channels (like websites, mobile apps and social media content) and a DXC allows developers to build the digital experience solution (leaving the delivery and optimisation to third-parties) after which they hand the solutions over to business users for day-to-day management.
What are the benefits of a DXC?
The business landscape is shifting. Often influenced by new developments in tech and what clients are demanding, companies need to adapt, change, and move with the times in order to stay relevant. In turn, every business wants to up their client experience in order to attract the big client fish in the sea. And because of this shift in the business landscape, the digital landscape has shifted too.
Companies are moving away from legacy applications, such as Monolithic DXPs – the traditional approach where one software vendor will sell a prepackaged all-in-one software suite. All the functionality is available from the same suite, but this also means that if you don't need a feature or want to change to another provider, you are kind of stuck.
While these monolithic DXPs or all-in-one suite solutions offer packaged solutions (as discussed in our article on Composable DXP) they are often out of the financial reach of smaller or medium-sized companies due to the initial implementation and ongoing costs but also don't always integrate well (they don't play well with others) with other tools outside of the suite, resulting in limited flexibility (Oshyn).
The result of this? The move towards DXCs where business users are able to manage the day to day of the digital experience, allowing flexibility and adaptability. Exactly what's needed in a fast-paced business environment that often requires changing of tactics at warp speed.
So, with that said, what are the benefits of a DXC?
According to Story Blok, the three top benefits of a DXC are –
Compose your own experiences – because a DXC is unbiased with regard to what third party integrations are used, companies can create tailored and innovative digital experiences by connecting best-of-breed third-party tools and vendors. DXC offers a completely different approach to innovations that large companies struggle to implement due to multiple technical restrictions.
Empower business users to work autonomously – developers can configure the required digital experiences and hand them over to marketers or other business users (in other words non-programmers) to maintain in a no-code environment. Meaning without using code, non-programmers can create business-critical digital experiences using a graphical interface. And this inevitably means that users don't have to rely on developers to create and publish content across the channels they need. Instead, they can work more autonomously while developers can focus on more technical tasks.
Shorter time to market – companies can avoid lengthy turnarounds due to the close collaboration between front-end developers and non-tech users. The time between idea creation and implementation is much shorter as you don't need to go through multiple rounds of approvals. Meanwhile, a shorter time to market leads to higher performance (Story Blok).
At the end of the day, being able to create the absolute best digital experience without the need to have a multitude of developers involved in the process is empowering for companies who want to be more involved with the creative process of the online digital experience. This is akin to grabbing a bull by the horns and running off into the sunset.
When shopping around for your latest legal tech investment, don't get hoodwinked by the overuse of technical buzzwords or empty promises of providing you the world – "Sure, we can help you with a Digital Experience Composition" – because once you understand what the word means, you will know whether they are a smart investment or not.
(Sources used and to whom we owe thanks: Story Blok; Hygraph; Occtoo; Oshyn; Crafter CMS; Tech Target and Mule Soft).
If you have any queries relating to legal tech and how you can incorporate it into your practice, get-in-touch and let's see how we can take your software solution from good to phenomenal.
If you don't have any software supporting your legal practice yet, it's not a problem. We are here to help you from scratch too.
AJS – as always – has your back!
– Written by Alicia Koch on behalf of AJS