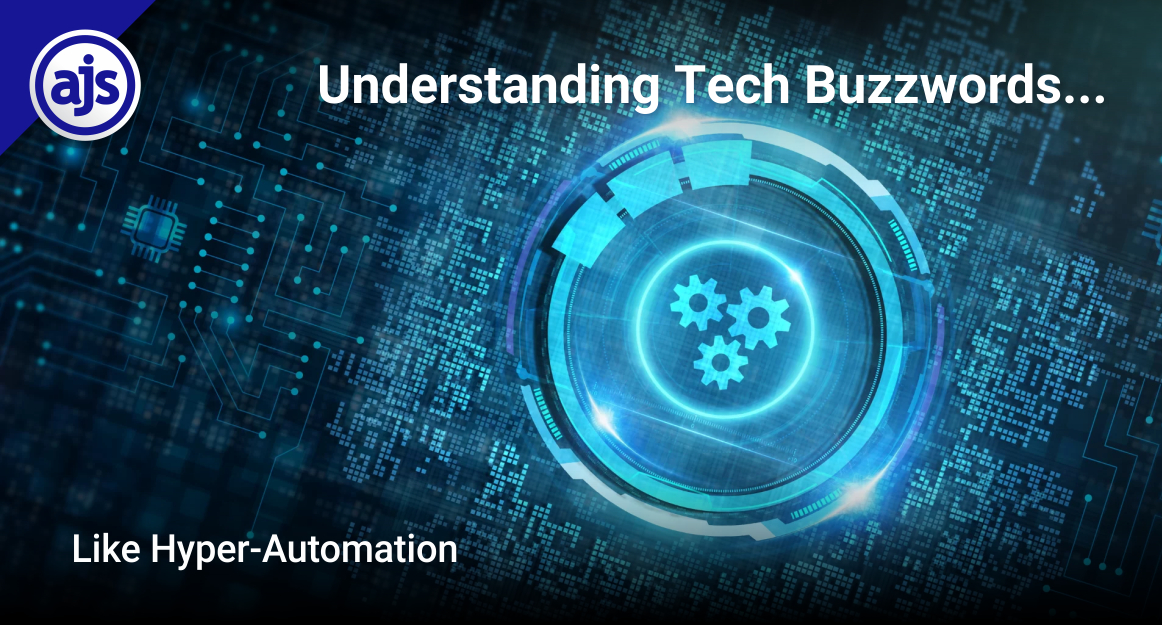 UNDERSTANDING TECH BUZZWORDS: Like Hyper-Automation
HYPER-AUTOMATION
When we think of technology, we imagine a world that is innovative and forward-thinking, a world that uses technology that is always cutting-edge enabling us to do everything we need to do within our workspace – promptly, more efficiently, more effectively, offering better security and at a reduced cost.
We imagine tech coming into our workplace automating labour-intensive tasks making our work lighter – almost like easy-peasy lemon squeezy – what more can I now do with my day?
We imagine filling up our roster with new clients aplenty – because we can. We have more time on our hands to service more clients, all because technology has helped us automate our workload. A win-win situation.
So, when we hear the term hyper-automation, our imaginations run wild with what could be possible, with what could be done…
The thing is, most of us have no clue what hyper-automation is, let alone how it fits into an organisation.
How it fits into our day-to-day operations and how it fits into a law firm's existing tech is kind of a mystery.
Until now of course.
It's so easy to get misled by all the buzzwords out there, that most of the time you are taking providers at their word. Not really knowing any better yourself. This may be ok with the providers you know and can trust but what about the new guys on the block that promise you the world? How can you tell the smooth operators from the "keep their promisers"?
One way is to become well acquainted with buzzwords so that you can pick out the take-a-chance "sharks" from the noble (and trusted) workhorses.
And we thought we would help you out with understanding a few of those buzzwords yourself. So that you can decide what is best for you.
Take hyper-automation as an example…
What is hyper-automation?
According to IBM, hyper-automation is –
"the concept of automating everything in an organisation that can be automated. Organisations that adopt hyper-automation aim to streamline processes across their business using artificial intelligence (AI), robotic process automation (RPA), and other technologies to run without human intervention".
Or as defined by Gartner is –
"a business-driven, disciplined approach that organisations use to rapidly identify, vet, and automate as many business and IT processes as possible. Hyper-automation involves the orchestrated use of multiple technologies, tools, or platforms, including artificial intelligence (AI), machine learning, event-driven software architecture, robotic process automation (RPA), business process management (BPM) and intelligent business process management suites (iBPMS), integration platform as a service (iPaaS), low-code/no-code tools, packaged software, and other types of decision, process, and task automation tools".
Wait! What is RPA?
RPA or Robotic Process Automation is what we know as simple automation, including document automation and the automation of repetitive tasks.
According to Deloitte's paper on Hyper-automation – The next frontier –
"RPA is a productivity tool that allows users to configure one or more scripts to activate specific keystrokes. These scripts overlay on one or more software applications and mimics actions within the well-established IT process. The actions could be manipulating data, exchanging data among applications, generating responses, etc. Generally, RPA is implemented as a non-invasive integration method to automate routine, repetitive, predictable tasks.
Process hyper-automation is an approach in which organizations identify, evaluate, and automate as many established processes as possible through standard approach".
Do we sense a "told you so"?
Essentially, hyper-automation is a combination of or orchestrated use of multiple complimentary tools, technologies and platforms – like RPA and AI (read our article on AI here) – that can be integrated into functions and processes within an organisation to automate repetitive processes and increase machine learning.
According to Deloitte, –
"integrating of process automation, integrating tools and technologies amplifies the ability to automate business processes. Everything that can be automated will be automated. Market pressure to improve efficiencies and agility are pushing organisations to adopt such technologies."
With RPA at its core, hyper-automation expands the automation horizon with AI, process mining, analytics, and other advanced, but integrated tools. The integration of these multiple technologies enables end-to-end process redesign, automation, and monitoring delivering greater value and impact.
On the face of it, it seems that hyper-automation isn't just about products or services. It is a holistic approach to automation requiring support from the wider business team, including IT infrastructure, to design approaches to processes and decision making.
Proservartner has set out that due to 82% of legal departments expecting workloads to increase in the years to come, there will be a greater need for automation of repetitive, labour-intensive tasks. Hyper-automation, as an inevitable outcome, has therefore become increasingly more essential to free up staff to deal with high-value matters – where they are needed the most – rather than the tedious, repetitive, time-consuming ones.
What are the advantages of hyper-automation?
According to the Hyper-Automation – The Next Frontier study published in November 2020, Deloitte India sets out the five following advantages for hyper-automation –
"Workforce enablement – harnessed with the power of hyper-automation solutions, employees can automate many processes within their roles and get more done faster with the resources available to them. Minimising manual tasks enables them to focus more on impactful work, such as planning and strategy.
Employee upskilling – any business user can become an automation leader within their own department, benefiting both tech and non-tech minded employees.
Systems integration – with hyper-automation, a company's clunky on-prem technology and disparate data systems can communicate seamlessly.
Digital agility – when every form of automation works closely together, a company can enter a state of true digital agility and flexibility at scale.
Return on investments – using key analytics, businesses can track the exact ROI realised (based on the process automated, departments optimised, and time and money saved every week, month, and year)".
And according to Iberdrola there is also –
Businesses transformation – well, digital transformation anyway – thereby aligning business processes with the investment in technology – because it increases overall productivity.
Big Data – business information can be extracted from data and decisions can be made more effectively.
And that's enough to make you stand up and take notice, we think.
When shopping around for your latest legal tech investment, don't get hoodwinked by the overuse of technical buzzwords or empty promises of providing you the world – "Sure, we can help you with a healthy edge computing" – because once you understand what the word means, you will know whether they are a smart investment or not.
(Sources used and to whom we owe thanks: IBM; Gartner; Deloitte and Iberdrola).
If you have any queries relating to legal tech and how you can incorporate it into your practice, get-in-touch and let's see how we can take your software solution from good to phenomenal.
If you don't have any software supporting your legal practice yet, it's not a problem. We are here to help you from scratch too.
AJS – as always – has your back!
– Written by Alicia Koch on behalf of AJS