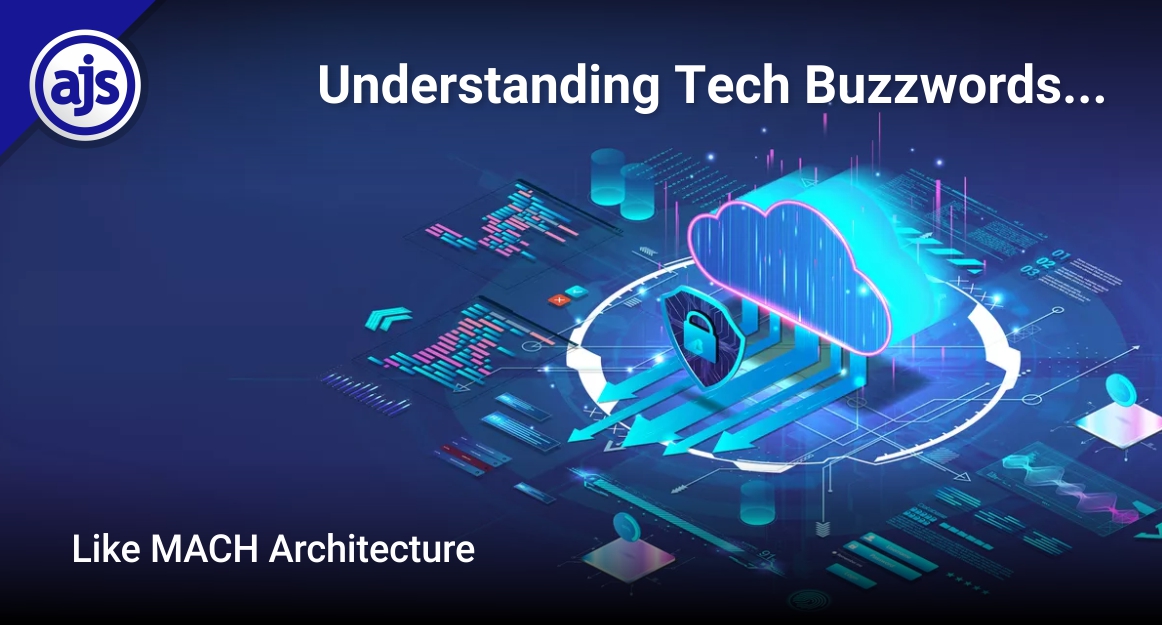 UNDERSTANDING TECH BUZZWORDS: Like MACH Architecture
MACH ARCHITECTURE
In today's world we all need to be digitally advanced. And fast.
There's no room for outdated technologies that take up space but don't pay rent. There just isn't time for lagging behind competitors, behind hashtags and behind prospective new clients.
Businesses need to be agile, flexible, and forward thinking. We all realise this.
Businesses need to provide services and content, often across multiple channels and devices all in an effort to remain relevant, to remain ahead of the digitalisation race and to remain at the forefront of their industries.
To do this, businesses require systems that are flexible, scalable, and future proof – meaning no matter how technology grows, changes, and evolves, deployed systems will adapt.
Call it a foolproof way of ensuring that come what may, your business is able to move with the punches and adapt to changing business needs and client expectations. With the underlying assurance that your business legacy will continue.
What exactly are we talking about? MACH Architecture friends. A term that encapsulates the overarching nuance that is sustainable systems and continued business.
As Sitecore puts it –
Enterprise software suites are no longer the safest choice, as businesses look to find more and better ways to remain agile, nimble, customer-centric, and future-proof. Digital transformation is essential for future success and many businesses are turning to MACH architecture to accomplish it.
Sure, it's so easy to get misled by all the buzzwords out there like MACH Architecture, that most of the time you are taking providers at their word. Not really knowing any better yourself. This may be ok with the providers you know and can trust but what about the new guys on the block that promise you the world? How can you tell the smooth operators from the "keep their promisers"?
One way is to become well acquainted with buzzwords so that you can pick out the take-a-chance "sharks" from the noble (and trusted) workhorses.
And we thought we would help you out with understanding a few of those buzzwords yourself. So that you can decide what is best for you.
Take this week's topic – MACH Architecture as an example…
What is MACH Architecture?
According to SoluteLabs, MACH Architecture – an acronym – is
"a modern approach that enables organisations to create flexible, scalable, and future-proof digital experiences that meet these needs. The four key principles of MACH architecture: Microservices, API-first, Cloud-native, and Headless, provide a framework for building applications that can easily adapt to changing business needs and customer expectations".
Essentially, it's a set of principles, patterns and associated technologies that enable adopters to solve business problems by using best-in-class services and technologies (MACH Architecture).
As we stated above, MACH Architecture is an acronym which according to MACH Architecture stands for –
"Microservices – a set of maintainable, testable, and scalable pieces of business functionality that are independently developed, deployed, and managed.
API – First – all system functionality is exposed through APIs consumed by a variety of clients and services, such as web apps, sites, mobile applications, and more.
Cloud native – apps and services are created to leverage the full capabilities of the cloud computing delivery model, designed, developed, and managed in the cloud and for the cloud.
Headless – the user experience (what the customer sees) is decoupled from the back-end services, allowing businesses to deliver solutions to a variety of devices in a multi-channel environment, in a cost-effective and efficient manner".
The key takeaway from the above boils down to this – within a MACH Architecture system each component is pluggable, scalable, replaceable, and can be continuously improved upon. Four key components that make MACH Architecture so desirable.
MACH Architecture has another bonus. By employing pluggable, scalable, and replaceable components in your current system, you are given the freedom to choose from and implement only the best tools available in the market. More importantly, you are able to select the components that best fit your business. Essentially, with MACH Architecture, businesses are able to maintain a structure that is easy to add to, replace with, or remove from as is needed and as your business or practice expands, grows, or changes.
Flexibility, agility, and adaptability is what MACH Architecture is all about.
What are the advantages and disadvantages of MACH Architecture?
Well, we may already know what the advantages of MACH Architecture are – flexibility, agility, and adaptability, but let's discuss this a little more shall we –
Flexibility: sure, we probably all guessed this one, but it cannot be overstated. For a business to be able to choose the exact services needed based on an individual business's unique requirements is a game changer. Being flexible in today's digitised economy means being able to adapt to changing business needs and ensures that every tool employed in a business's tech arsenal remains up to date.
Scalability: MACH architecture enables businesses to scale up or down as needed, without having to worry about infrastructure management. This ensures that applications can handle sudden spikes in traffic or usage, and that they can grow as the business expands.
Speed: MACH architecture enables teams to work in parallel, and to develop, test, and deploy services quickly and independently. In addition, MACH Architecture speeds up the development process, reducing the risk of errors, and ensuring that applications are delivered on time and on budget.
Personalisation: it's all about separating content from systems and tools. By using APIs to deliver content across multiple channels and devices, businesses can deliver relevant and targeted messaging to their users – thus a more personalised and engaging experience is created.
Best-of-breed: by using tools that speak to the unique requirements of a business. Niche API products are focused on doing one thing really well, and this particular focus can improve quality and agility.
No more disruptive upgrades: there's no need to worry about disruptive upgrades anymore. With MACH architecture, all releases are automatic and non-breaking (Solutelabs; Sitecore and Devops).
And the negatives?
With the good must come the bad – as set out by Devops –
"Increased maintenance: consuming many third-party cloud services will inevitably bring new maintenance hurdles. These include tracking, monitoring, and securing all integration points. It also requires responding to new version updates.
Stitching together: naturally, when you add a cloud-based abstraction layer to the services you consume, the onus is on the consumer to then to stitch them together to make components talk to one another.
Startup costs: due to the coordination between services, initial costs and engineering time could be more than implementing a holistic suite.
Assistance may be required: those unaccustomed to microservices development and API integration may need help. This may require the support of systems integrators or middleware to orchestrate connections.
Lack of standards: MACH is more of a general architecture rather than a standard specification. Thus, the precise technologies under the hood and the specific behaviours may differ from service to service".
Businesses will need to weigh up the need to be as flexible, agile, and adaptable with the expense of acquiring microservices and the support that may be required to ensure everything is up and running correctly. What each business will choose will ultimately depend on what is key to their current (and future) operations.
When shopping around for your latest legal tech investment, don't get hoodwinked by the overuse of technical buzzwords or empty promises of providing you the world – "Sure, we can help you with MACH Architecture" – because once you understand what the word means, you will know whether they are a smart investment or not.
(Sources used and to whom we owe thanks: Devops; Solutelabs; MACH Architecture and Sitecore).
If you have any queries relating to legal tech and how you can incorporate it into your practice, get-in-touch and let's see how we can take your software solution from good to phenomenal.
If you don't have any software supporting your legal practice yet, it's not a problem. We are here to help you from scratch too.
AJS – as always – has your back!
– Written by Alicia Koch on behalf of AJS